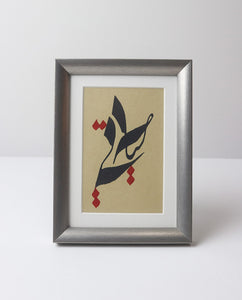 Hayati حياتي (My Life)
Regular price $150.00 Sale
لوحة أصلية بالخط العربي، تحمل السمات المعاصرة والحديثة لهذا الفن وكذلك اللمسة الخاصة بالفنان. 
- اسم الفنان/المصمم: حسين الأزعط
- سنة الانتاج: ٢٠١٧
- المادة: ورق فنّي
- الأحبار: حبر أسود ياباني وحبر أحمر عربي مصنّع يدوياً
- القياس  14.8 سم في 21 سم
السعر شامل الإطار والشحن إلى جميع دول العالم مع إرفاق رقم شحنة للمتابعة.
Original Arabic Calligraphy artwork, it carry a strong direction of moderation and a clear contemporary touch by the artist. 
- Artist/Designer Name: Hussein Alazaat
- Production year: 2017
- Material: Fine Quality Paper
- Ink type: Japanese calligraphy sumi ink and hand made Arabic ink
- Size: 14.8 cm x 21 cm
Price include the frame and worldwide shipping with a tracking number.